MRT3 Circle Line. It's August. Tender to start soon?
I am one of the supporters of the MRT lines, whether it's MRT 1 Sungai Buloh line, MRT 2 Putrajaya Line also the MRT 3 Circle Line which has been confirmed but has not yet started. It's also true that even if we take out the effects from Covid-19, the MRT Lines were not yet as popular as the LRT lines, yet. When I took the MRT, I usually have seats versus when I take the LRT, I usually have to stand all the way.
Just remember that it is not possible to build only when the number of passengers are certain. If we build only when the whole area is already mature and full of residents, the cost to build is likely to be many times higher plus all those potential objections to the noise pollution, traffic jams due to construction etc.
A few months ago, in April 2021, when the government was still the previous government, this news appeared in most medias. Article in thestar.com.my MRT Corp CEO Datuk Mohd Zarif Hashim told a media briefing that several proposed alignments were being evaluated. Transport Minister Datuk Seri Dr Wee Ka Siong said the project would commence in the second half of 2021. The MRT3 line will be up for tender as soon as August.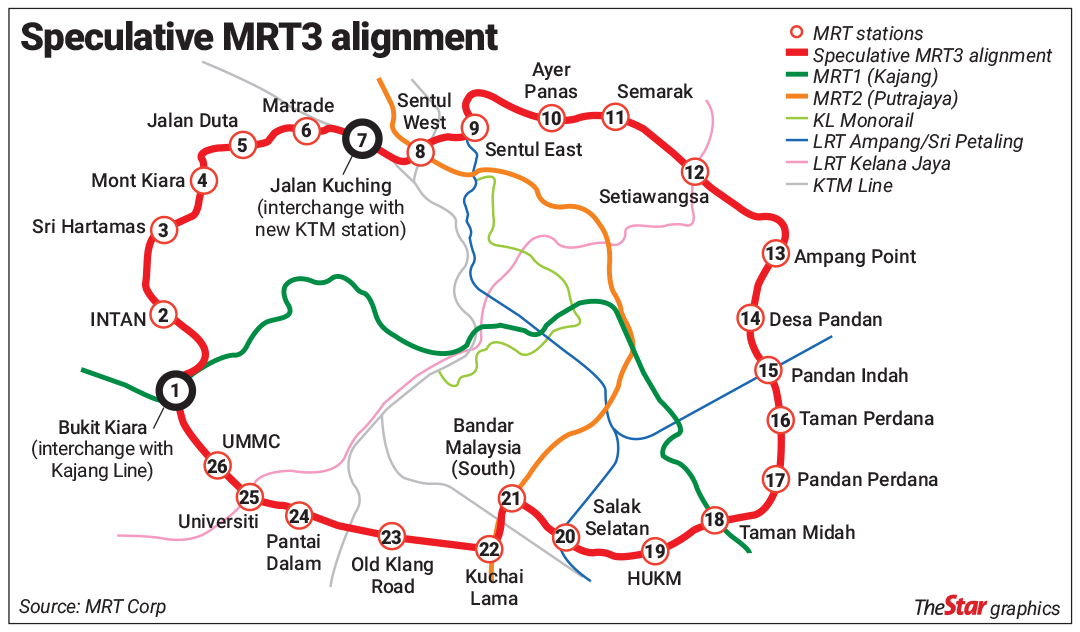 Mohd Zarif said about 40% of the 50km-plus alignment would run underground. The Circle Line will form a loop or orbital line that encircles Kuala Lumpur's city core, while linking up most of the radial rail lines mentioned earlier in stages, with construction spread over 10 years.
In some speculative versions, MRT3 will have stations at Bukit Kiara (interchange with Kajang MRT), Intan-National Science Centre, Sri Hartamas, Mont Kiara, Jalan Duta, Matrade, Segambut Tengah (interchange with KTMB), Sentul Barat (interchange with the upcoming Putrajaya MRT Line), Sentul Timur (interchange with the Ampang LRT line), and Setiawangsa (interchange with the Kelana Jaya LRT line).
It will also have stations at Pandan Indah (interchange with Ampang LRT), Taman Midah (interchange with Kajang MRT), Salak Selatan (interchange with Sri Petaling LRT), Bandar Malaysia South (interchange with Putrajaya MRT), MidValley (interchange with KTMB), Kerinchi (interchange with Kelana Jaya LRT), and University Malaya Medical Centre, among others. Please do refer to the article for full explanation too. Article in thestar.com.my
Maybe there will be a slight delay since the new Transport Minister is not appointed yet.
I think a little delay is okay lah. Just need to ensure tender starts soon versus delayed further to next year for example. As announced too, this is likely to take up to 10 years to fully complete, so even starting in 2021 meant that the full line will be ready only in 2031 yeah. That's like still very far away and too many unforeseen circumstances may still happen along the way.
Will keep reporting about MRT3 Circle Line news. Yes… I am waiting to take the MRT2 Putrajaya Line soon as well. What about you my dear readers?
Love news like this and more? Sign up for daily investment news updates. Alternatively, Follow me on Telegram here.
Please LIKE kopiandproperty.com FB page to get daily updates about the property market beyond kopiandproperty.com articles. Else, follow me on Twitter here.
Sign up for KopiWeekly. (only once per week of property, finance, investment news and more)
Next suggested article:  MRT Line 3 starting end 2021 and the stock picks?