Median house price in Malaysia is dropping! Is this a bad sign for the market? 😛 The full article in edgeprop.my here.  The median house price for the whole country is now at RM280,000 as at Q1 2018 and this is a drop from RM303,000 in 2017. It was much lower in 2012 which was RM170,000 and in 2013 it was RM250,000. I think what this tells us is that the affordable homes being built by the various quarters have started to show some potency. This is definitely good for the average Malaysians who need a home and is still struggling (really) or "struggling" (kept spending too much) before they could have enough down payment for a home. Oh yeah, the there was supposed to be something special for the M40 and B40 in August promised by the Minister of Housing and Local Government. Yes, I think everyone is waiting for that new announcement.
Coming back to reality, for KLites / Selangorians working people like me, we must be wondering where could we find homes at such a price; RM280,000. Well, the affordable schemes could be one choice but the truth is, the median home price for KL is RM550,000. For Selangor, it's RM380,000. In brief, anyone staying in homes which are more expensive than these median prices can be considered 'above average'?  Be grateful yeah. Please refer to the below chart by edgeprop.my  with information from National Property Information Centre (NAPIC)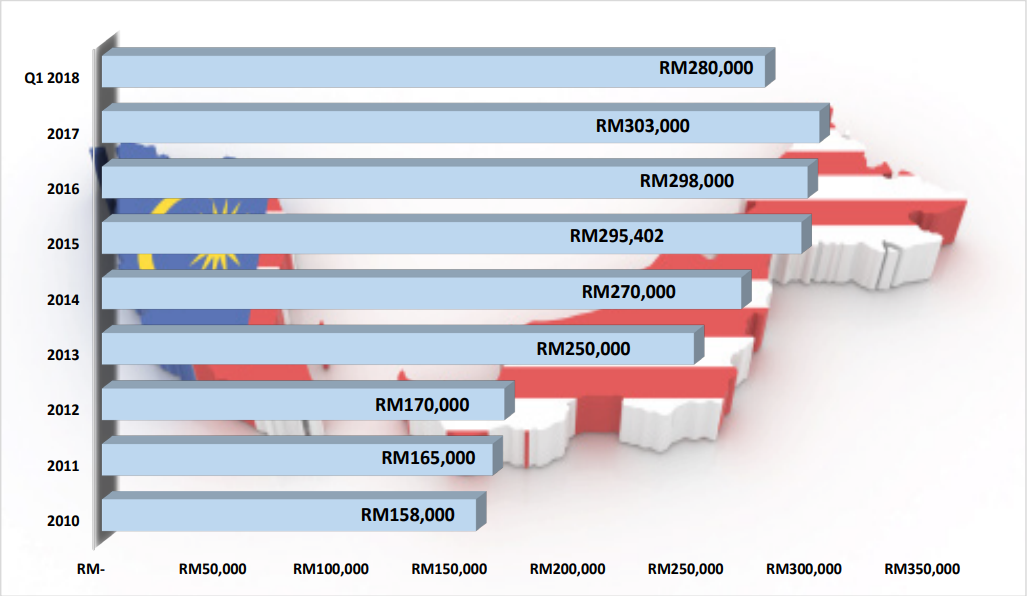 As for Kedahans and Malaccans working people, you will have median homes prices of RM160,000 and RM181,000, respectively. (I must seriously put more effort into saving for a place in Melaka before it goes ever higher)  Average price wise which actually does not make too much sense for KL and Selangor are RM836,420 and RM486,474. NAPIC says that the residential prices data is generated from residential transactions (excluding vacant land, detached plot and others) submitted to the Valuation and Property Services Department (JPPH) by the Inland Revenue Board for stamp duty valuation during the review period. (REMINDER: TRANSACTIONS yeah. Earlier article here: No transactions, no changes in prices lah. NAPIC says that the transactions data include both primary and secondary property transfer within the review period that are in all stages of construction – completed, under construction and planned. For reference, Here's that article in edgeprop.my: Malaysia 1Q18 median house price is RM280k.  Focus on having a home sweet home yeah. Cheers.
written on 18 Aug 2018
Next suggested article:Property prices can only go up when we could afford it