EPF declares higher dividends than 2019!
I wrote about the EPF dividend potential earlier. Read it here: Good news indeed if EPF dividend is 6% or higher Yes, you can say that I was optimistically hoping for higher than just 6% even if 6% is already very encouraging. We have received the good news.
If you have RM100,000 in your EPF conventional savings, it has now become RM106,100. Yes, EPF has just declared a 6.1% dividend for conventional savings and 5.65% for shariah savings for 2021. 6.1% is 300% better than the current Fixed Deposit rate and is comparable to many dividend returns from dividend stocks too. Kudos EPF team. You have done very well. Now I wonder if 2022 may be even higher! 🙂 That's the wish of all EPF contributors. Do read the happy news below.
Article in theedgemarkets.com EPF said its overall investment assets grew to RM1.008 trillion in 2021. This is up 0.8% year-on-year from RM1 trillion in 2020. In February 2021, the EPF said its overall investment assets grew 7.9% to RM998 billion from RM924.75 billion in 2019.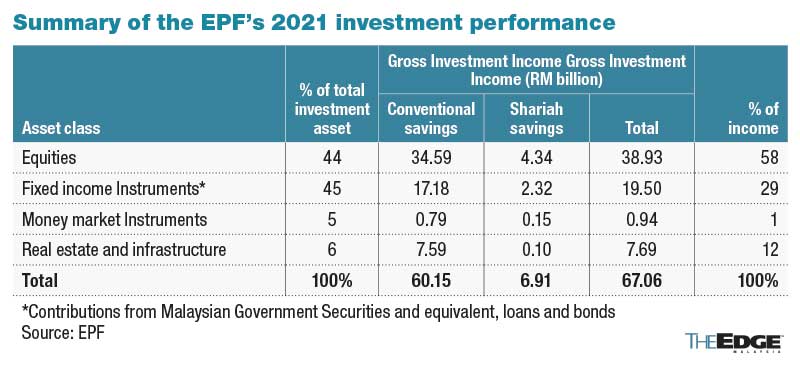 However, the total investment assets slowed down despite strong investment performance because of Covid-19-related withdrawals, including the unprecedented i-Sinar Account 1 withdrawals totalling RM58.7 billion.
At a briefing on Wednesday, EPF CEO Datuk Seri Amir Hamzah Azizan said that the fund had prematurely taken profit on some investments and brought back RM22 billion from abroad to cater to the sizeable Covid-19-related withdrawals last year. Do read the article with a lot more details here: Article in theedgemarkets.com
EPF has to be last resort, not first
Whatever we earn today, we save and we spend within what we earn. This is how we can also build up reserves and be ready to sustain us when we no longer work. EPF savings will complement that savings. Thus, just think of EPF as last resort and not the first.
Beyond just saving alone, we need to invest. The reason is simple. The FD rates of today are not like long time ago. It used to be easily 6% or higher. These days, 2% is the number we are looking at. Saving our money and earning 2% yearly meant that our wealth is growing smaller and not bigger. Inflation is at least 3% and this chips away our returns easily.
Looking forward to another good year ahead. Yes, I am optimistic that we will learn to live with Covid-19 for a while more.
Property News Malaysia? Sign up for daily investment news updates (FREE since Nov 2013 and FOREVER). Alternatively, Follow me on Telegram here.
Please LIKE kopiandproperty.com FB page to get daily updates about the property market beyond kopiandproperty.com articles. Else, follow me on Twitter here.
Next suggested article: RM582,125 missing from condo management body accounts
Header Image by Nattanan Kanchanaprat from Pixabay