Property industry Malaysia. Recover soon or recover later?
During the media briefing on Rehda's Property Industry Survey 1H2022 and Market Outlook 2H2022 and 1H2023, Real Estate and Housing Developers' Association Malaysia (Rehda) president Datuk N K Tong said that Malaysia's real estate industry is unlikely to recover to its pre-pandemic level in the next three to five years. You can read the full article here: Article in theedgemarkets
He says this about Malaysia's economy and the property market, "Meanwhile, the country's economic recovery would depend on when the world's economy returns to normal, which I think will take some time … Most likely not in the next three to five years given the challenging market situation such as the current inflation wave."
With regards to controlling inflation, he said that Bank Negara Malaysia has no choice but to increase the OPR (overnight policy rate). However, the central bank is [raising the OPR] gradually and more slowly than some Western countries, so local homebuyers will not feel a significant impact immediately. In fact, our interest rate is still relatively low [compared to others] in the region. He also shared a lot of under information on the launches by developers too. One slide is as below: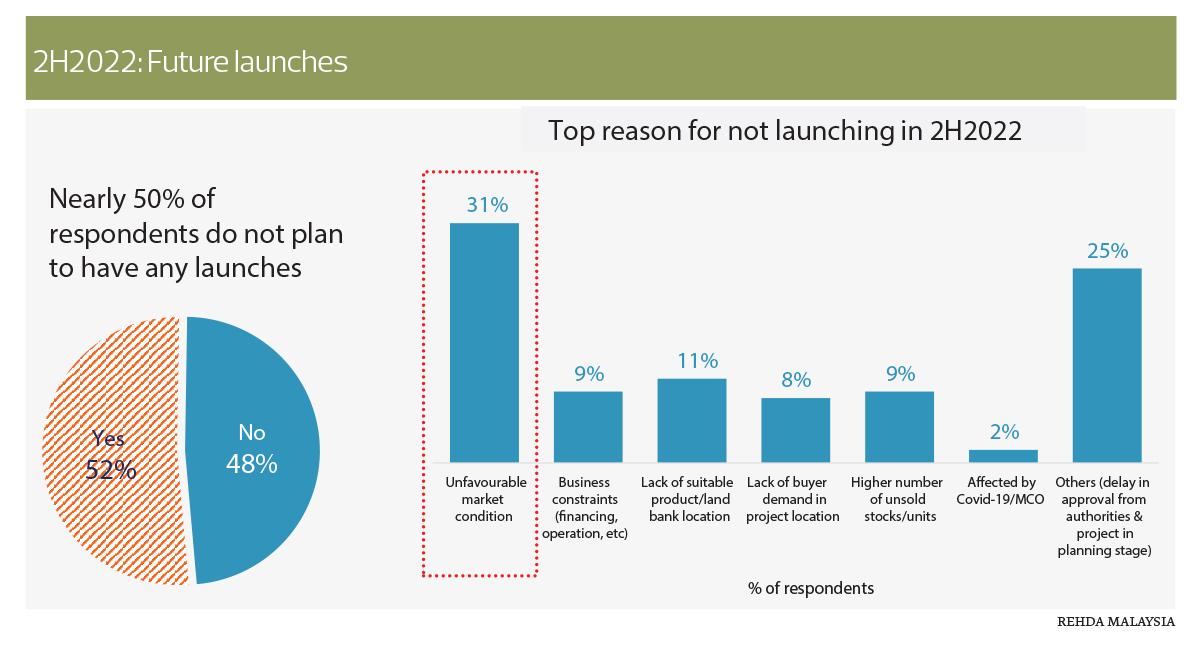 You can read the full article here: Article in theedgemarkets
What does it mean if our property market will not recover to pre-pandemic level so soon?
If it's not recovering so soon, we can take the gloom and doom view. Means the property we own may not have much movements in price. It also meant that because developers are not launching, it meant that there are lesser choices for everyone. The above chart showed that 48% of all developers are NOT launching any properties yeah. So, we only have choices from the remaining 52% developers who has new launches.
Alternatively, we can also look at the potential point of view. It means we still have some time to decide before buying. So, does not need to be forced to buy. It also meant that there is a possibility that supply of new properties may face shortages if somehow demand for new properties suddenly increase. (even if potential buyers could still choose to buy from secondary market) Just need to remember that if developers are delaying their launches, the completion of new properties will be longer too for these unlaunched properties.
Whichever view we take is, take the appropriate action yeah. If property is not a good investment because of this announcement, then find other investments and do it. It's not spending away the funds yeah. However, if you think this is an opportunity, then start viewing and deciding. Not just say and then do nothing about it. By the way, most of us love to talk and dream and debate. The only issue is most people do not proceed to action.
Property News Malaysia? Sign up for daily investment news updates (FREE since Nov 2013 and FOREVER). Alternatively, Follow me on Telegram here.
Please LIKE kopiandproperty.com FB page to get daily updates about the property market beyond kopiandproperty.com articles. Else, follow me on Twitter here.
Next suggested article: It's not an investment if we know nothing about it