There are many ways to enter the stock market. Getting to know the theme which we like and buy accordingly is one of the ways. The below are the 7 themes by CGS-CIMB and the full article is here in edgemarkets.com (click to read)
Right below would be the stock picks by CGS-CIMB and these are their picks for H2 2021. Just need to note that all the picks are based on all the current circumstance. So, if everything turns out better, then their stock picks may do better and if everything takes a worse turn, then maybe their picks would also not perform.
This is what they anticipated. "Its analysis suggests that the Government can achieve its target to fully vaccinate 70% of the population by November at the current daily vaccination rate."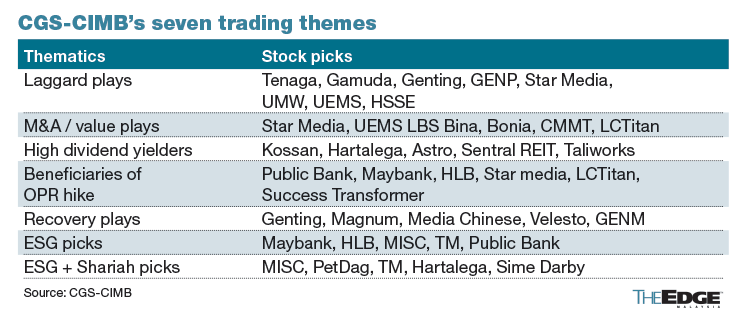 This is why it is so important to read the themes and pick those which we think makes sense to us. At least if it goes wrong, the person who made the decision is us. The information is provided by them. CGS-CIMB gave us 7 themes. If you like to read all, please click this article yeah: 7 themes by CGS-CIMB and the full article is here in edgemarkets.com
I will explain 3 themes which I think is quite easy for everyone to understand. Note that these are random in order and I do not have any shares in the companies under these three key themes too. The three themes are as follows:
#1 Laggard Play. These are the stocks which are 20% below pre-Covid levels. In other words, the upside may be coming because these stocks were impacted by Covid-19. Thus, the price has a potential for upside.
What this theme is basically saying is that the stocks are undervalued based on their current performance. Just need to remember that there is no guarantee they can continue performing yeah. If you like to know what are these stocks, look at the image above yeah. Some companies you know may include Tenaga, Gamuda, Genting and UMW.
#2 High Dividend Yield companies. These are companies which if we buy at its current price, then the dividend which we will receive is actually very attractive versus current fixed deposit rate. In fact the companies quoted really do have very attractive dividend yeah. Kossan Rubber Industries Bhd (DY: 19.1%, TP: RM4.20), Hartalega Holdings Bhd (DY: 9.3%. TP: RM8.50), Astro Malaysia Holdings Bhd (DY: 7.8%, TP: RM1.51), Sentral REIT (DY: 7.8%, TP: 99 sen), and Taliworks Corp Bhd (DY: 7.7%, TP: 93 sen).
#3 Beneficiary of OPR rate hike. I think you can guess who will be the beneficiary companies under this theme. Yes, the list includes many banks. When the lending rates are hiked, the banks could earn more from their loans as the rates increase would be immediate while the Fixed Deposit rates are time based. Thus, profits usually increase under such circumstances.
The list of the banks with their target price is as follows: Public Bank Bhd (TP: RM5.30), Malayan Banking Bhd (TP: RM9.30), and Hong Leong Bank Bhd (TP: RM20.78).
There are 4 other themes too. Just read the article: 7 themes by CGS-CIMB and the full article is here in edgemarkets.com
I do not own any stocks listed in this article. I also have nothing to gain yeah. So, your decision on which theme to follow if it meets your expectations is really your decision. Happy thinking and deciding yeah. Take care and stay safe.
Love news like this and more? Sign up for daily investment news updates. Alternatively, Follow me on Telegram here.
Please LIKE kopiandproperty.com FB page to get daily updates about the property market beyond kopiandproperty.com articles. Else, follow me on Twitter here.
Sign up for KopiWeekly. (only once per week of property, finance, investment news and more)
Next suggested article: Personal Finance as easy as ABC